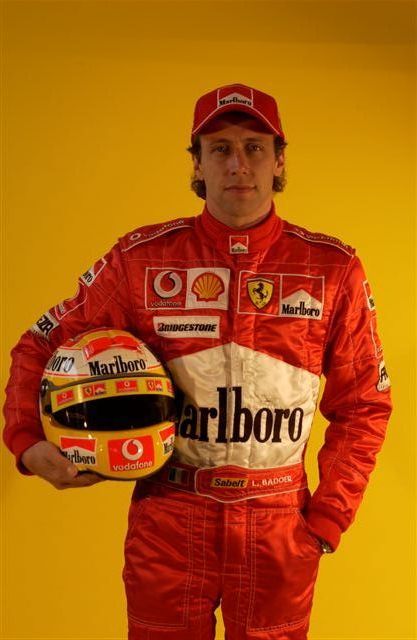 Italy's Luca Badoer will drive for Ferrari at this month's European Grand Prix in Valencia after Michael Schumacher called off a much-anticipated Formula One comeback Tuesday.
Badoer, 38, is a Ferrari test driver whose name was first floated by Italian media after Felipe Massa's crash took him off the race circuit. He joined Scuderia Ferrari as a test driver in 1998.
Badoer told Ferrari's website he had mixed feelings about his chance to drive in a F1 race.
"Since I've been a child I always wanted to race for Ferrari and now I've got the possibility to make this desire come true," he said. "I'm really sorry for Michael, because I know how much he wanted to return. I'm saying that as his friend and his fan."
Schumacher had agreed to drive in Massa's place, but he cancelled his return to F1 as a result of injuries sustained in a motorcycling accident earlier this year. He says he informed Ferrari officials Monday evening that he would not be able to step in for Massa.
"I am very unhappy that a problem means that Michael cannot return to racing," Ferrari president Luca di Montezemolo said. "In the past few days, I could appreciate his great efforts and extraordinary motivation which had spread through the team and fans around the world.
"No doubt his return would have been good for Formula One and I am sure it would have seen him fighting for wins again. In the name of Ferrari and all the fans, I wish to thank him for the strong attachment he displayed for the team in these circumstances."
Montezemolo said the team gave Badoer "the chance to race for the Scuderia after he has put in so many years of hard work as a test driver."
Badoer began racing Formula 3 cars in 1990. He marked his first season with a win at Vallelunga, Italy, and in his second season in 1991 he won four races, finishing fourth out of 50 competitors in the championship, according to the Ferrari website.
"Luca earned wide and definitive recognition in 1992, when he won the Formula 3000 intercontinental title with four race victories and five pole positions," Ferrari said. He began driving F1 cars in 1993 for the Scuderia Italia Team, joining Ferrari in 1998 after 51 Grand Prix starts