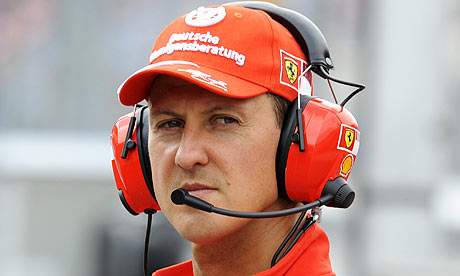 Ferrari have written to the FIA and all its rival teams requesting special dispensation for Michael Schumacher to undertake a day's testing in the team's F60 challenger before his return to Formula One in the European grand prix at Valencia on 23 August.
Regulations forbid any testing during the season apart from strictly controlled straight-line runs to check out aerodynamic development. But it is believed that Ferrari will request on safety grounds that the seven-times world champion – preparing to fill in for the injured Felipe Massa – should be allowed to become acquainted with his new machine before the meeting rather than being pitchforked into the frenzy of Friday's first qualifying session on an unfamiliar Valencia circuit.
Schumacher has spent the past couple of days testing at the Ferrari-owned Mugello circuit near Florence, driving one of the Ferraris in which Kimi Raikkonen won the 2007 world championship, the year after he retired. Driving an old Formula One car does not breach the testing ban, which only applies to the current cars being used by the teams contesting the world championship.
"It's a great thing getting back on the track with an F1 even if this was a car from 2007," he told Ferrari's official website. "After a couple of laps I was able to drive constant lap times and I'm happy with the performance. Now we've got to see how my body and the muscles respond in the next days."